This is a comparison of the factory original tires on an M416 or M100 to their nearest current commercial size. 
The tire on the left is a 7.00-16 NDCC tire from a late 60s M416 trailer.  This is the same type of tire the M100 had.  The tire on the right is a new LT215/85 Firestone Destination MT mounted to an M100 wheel.  You will also see the difference between the M100 wheels (black) and the M416 (brown).

Note that the M416 is a hub-centric wheel, it uses flat ended lug nuts.  Detailed photo.

Note the M100 is a lug-centric wheel, it uses wedge-shaped lug nuts.  Detailed photo.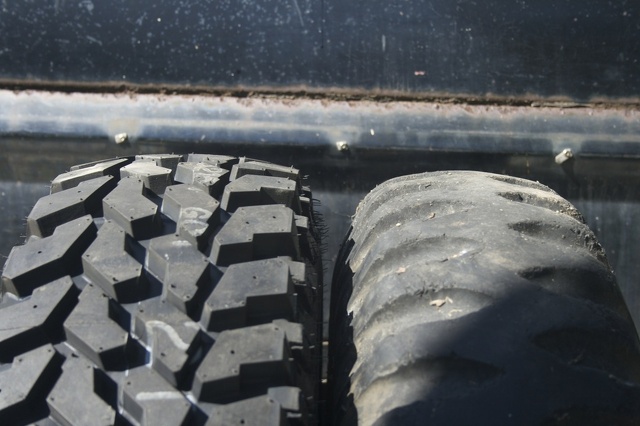 The tires are roughly the same size.  The NDCC you see here is a bit worn so has lost some height.  I have a nearly new set of 7.00-16s on my M416, comparing new for new they're almost exactly the same height.  The commercial tire is only slightly wider.  As expected the commercial tire is more squared off.  This could potentially cause some issues with fender hardware.
If I were replacing the tires on an old military trailer or a civilian version I would run the above 215/85/16 tires on the original wheels any time.  I will keep an eye on the Firestone tires on the USFS M100 trailer, I'm sure they will have a nice, long service life.