Saturday night I got changed out of my riding gear and headed over to the dinner and raffle. As usual the dinner was good and the raffle entertaining. I managed to win an ADVMoto subscription and dual sporting DVD and procured a machete for my KLR. That night I had a couple beers and went to bed a bit early, I was too wiped out for the sort of debauchery I was expecting to be up to.  I went back to camp to retrieve my bottle of Karma Tequila I had one in a previous year's raffle, took one drink, then gave it to the folks at the campfire to pass around.
Chris Horgan of Stewards of the Sequoias talks about Land Access. This man has done a lot of good keeping trails open in the Sequoia National Forest and deserves our full support.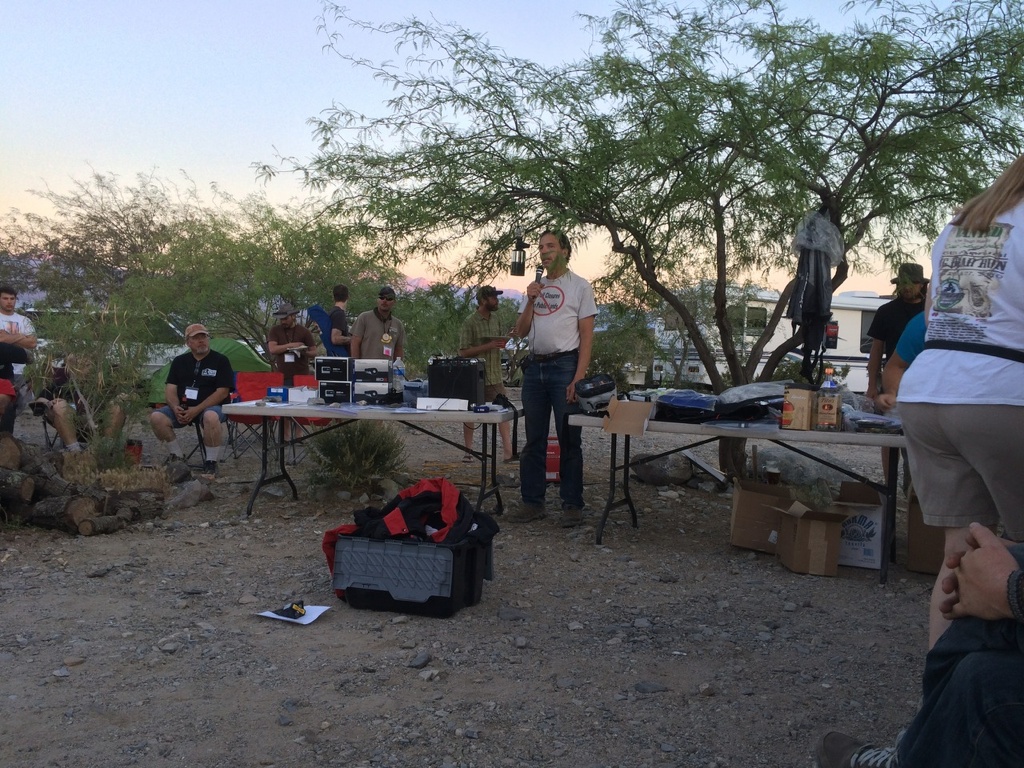 Off hand iPhone shot of the main campfire as I walked back from brushing my teeth.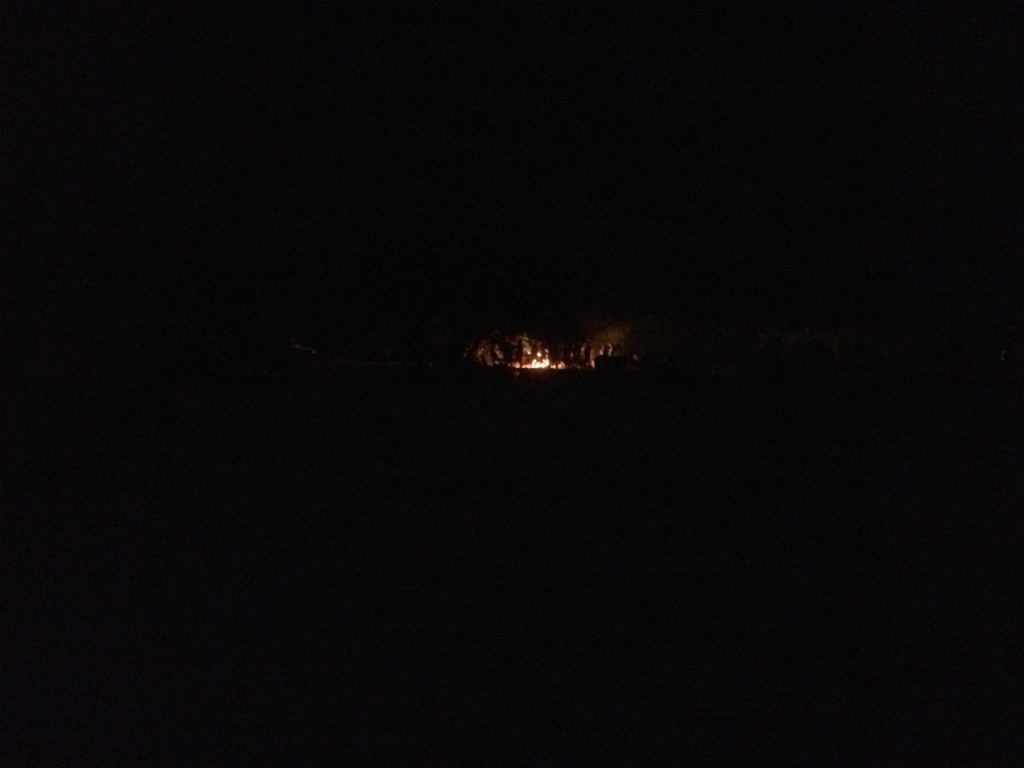 Sunday was a lazy day. I got breakfast then slowly broke camp and stored all my stuff on the little trailer. After I was done I parked the trailer and went to get the repeater. My campsite mate Berndt/PukaWai joined me on his Dakar and Dave jumped in the Jeep to take the air conditioned ride out
Berndt gives the salute on top of the ridge.

We retrieved the repeater without issue and headed back to PSR where we went our separate ways. I went and had lunch with Cindy/Cowgirl where once again I was treated (owe here too in 2016, I know she'll be there!). Then I wandered over to where I left my trailer and started packing up for the long drive home.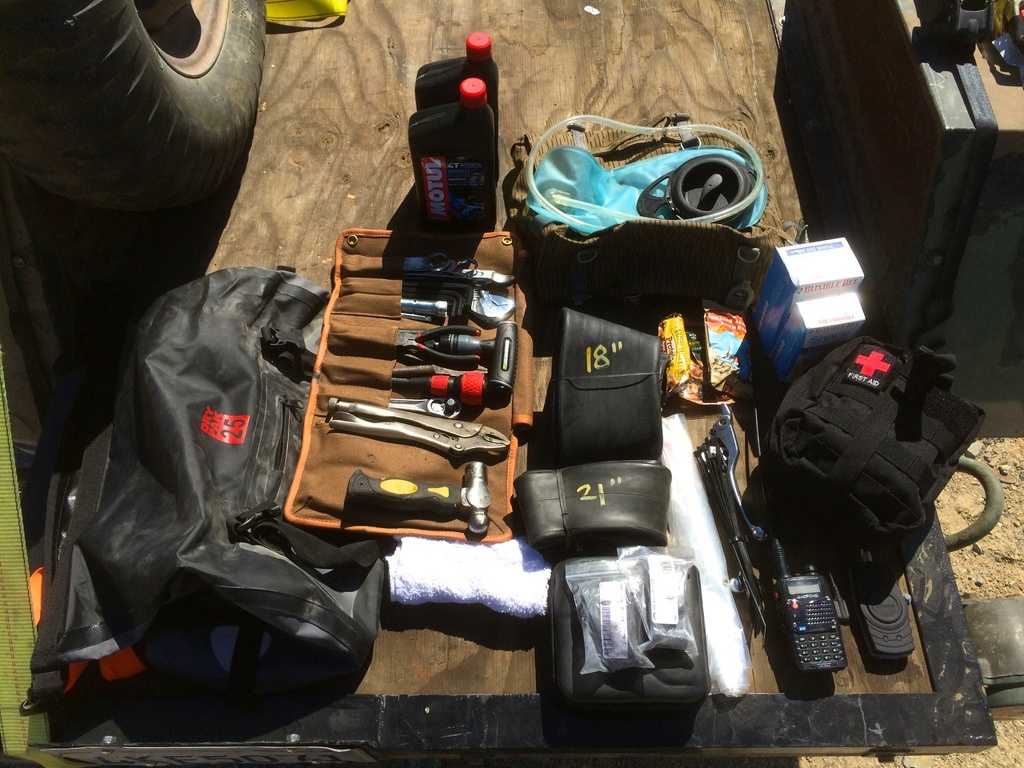 Here is what that dry bag (Firstgear Torrent 25) the back of the DR held.
Two quarts oil (full fill)
Tool kit with tools for all common tasks plus duct tape and bailing wire
Tubes, rim strips, patches
12VDC air pump
Spare levers
Zip ties
Spare levers
High-energy food/snacks in case of unplanned overnight
Lunch
Cleaning rag
6 1 gallon ziplock bags for catching fluids and trash
Spare water bladder inside semi-waterproof bag (full when leaving)
Sena SR10 radio adapter
Baofeng UV5R radio
First aid kit
Luckily I never had to open the tool kit and only needed to get into the first aid kit to give Sarath one Advil on Saturday. That's the sign of a good weekend.
One last photo at my home in Inyo county then off I went. Back to the real world of jobs, kids, and laundry.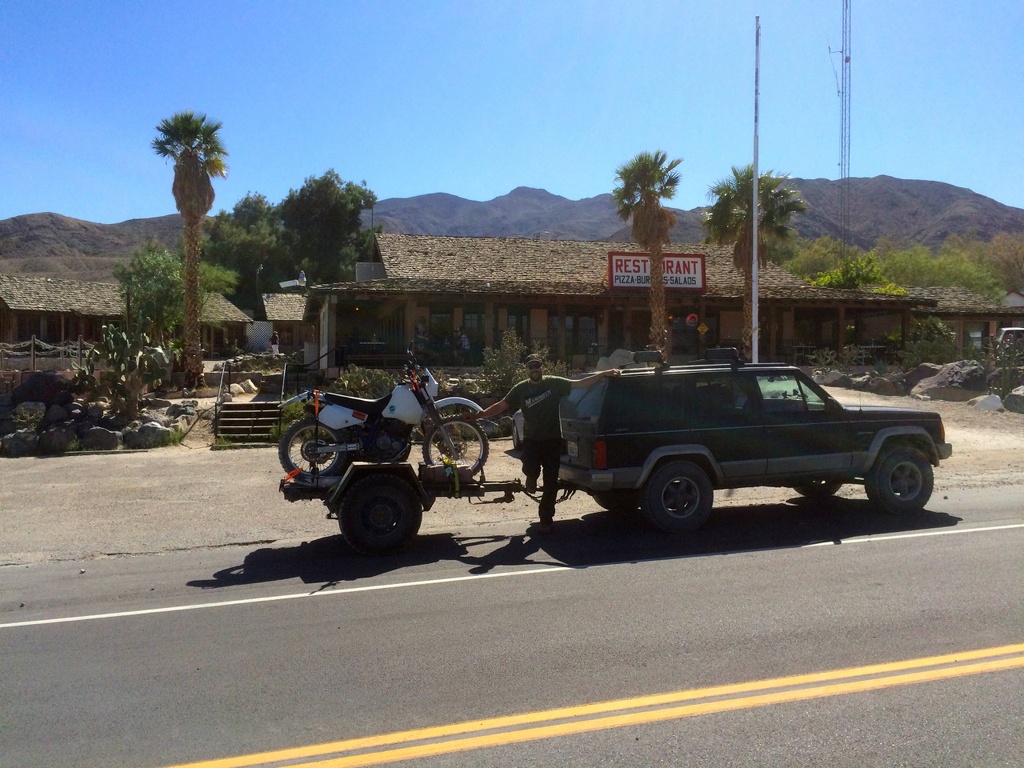 See you next year.